Pictures of Coach Schlentz when he was in high school. Notice the bare feet.
Jim Schlentz running cross country for Freehold Boro H.S., junior year. from the Freehold Boro H.S. yearbook, 1971.
| | |
| --- | --- |
| | Another barefoot picture. Senior Len Turtora ran 12:33 and would later win the Shore Conference. Senior Jack Helmstetter finished 12:45 2nd, soph Dean Mathews 3rd 12:48, junior Jim Schlentz 4th 12:50 (2.4 mile course). Dean Mathews would later finish 5th in the marathon at the 1980 USA Olympic Trials. (Notice the lack of tan on the foot.) |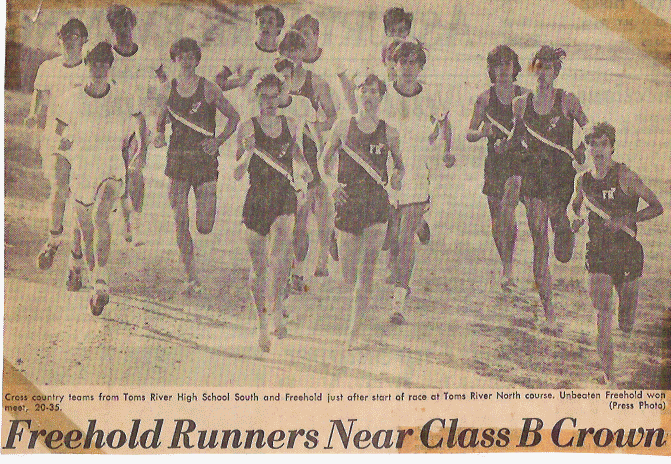 This is a meet my senior year at Toms River South. Most of us (Freehold in the dark uniforms) are running barefoot down this sandy road covered with pebbles. Greg Loxton (far right) won in 13:14, I (2nd from right) was 2nd in 13:18, 1 second ahead of their top guy. This was the team we had to beat to win the B Division title.