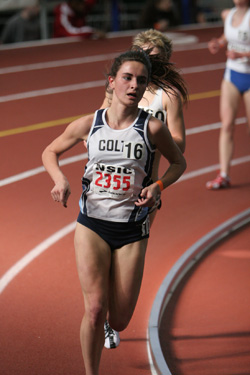 Dyestat story: Ashley Higginson is the kind of a runner who gets tired two days after a race instead of the day after. So it was fortunate that her 4:48.9 on the 4x1 mile relay anchor did not come on Friday, or we might not have seen the Colts Neck NJ senior's spectacular display of front-running, even pacing, and relentless drive that brought her an individual national crown today.

Higginson went to the lead right from the gun, pulling a string of several other contenders behind her, including Emily Jones MA, Allison Sawyer NY, Shelby Greany NY, and the national 5000m champion from Friday, Marissa Treece MI. As Higginson kept running 38- and 39-second laps, the parade behind her slowly began to thin out. At the mile mark, reached in 5:09.7, only Treece and Jones were with her, and one lap later it became a two-woman race with Jones losing distance.

But Treece determinedly hung onto the Jersey harrier even as the leader gradually began to pick up the pace. When Higginson really dropped the hammer with 400 meters to go, however, she assured herself the victory. Blazing the last quarter mile in 73 seconds, Higginson won in 10:16.75, a US#1 this winter and a New Jersey state record. Treece hung onto second with a US#2 time of 10:22.96.

Ashley's 220 yard splits were as follows: 38.6, 38.3 (1:16.9), 38.0 (1:54.9), 38.5 (2:33.4), 38.4 (3:11.8), 39.4 (3:51.2), 39.2 (4:30.4), 39.3 (5:09.7), 39.4 (5:49.1), 39.9 (6:29.0), 39.6 (7:08.6), 38.9 (7:47.5), 38.2 (8:25.7), 37.9 (9:03.6), 36.7 (9:40.3), 36.4.

Elated with the victory, the future Princeton Tiger said that breaking the state record was her lofty goal at the beginning of the season, although she was not sure she could get it. In fact, she improved her converted 3200m personal best by an astonishing 13 seconds with today's performance. She admitted that despite feeling a little bit of pressure as the favorite, this was one of the best races of her career so far, but she also hoped that her perfect race is still to come in the future.

Asked about her even pacing, she said she does not like to go out too fast and prefers to run evenly because it feels easier, especially in the middle part, when it is difficult to concentrate and not slow down. Higginson attributed her negative splits at the end to the fact that Coach Jim Schlentz trains her team to always finish strong. As for the outdoor season, her main goal was to break 10:20, but that might have to be readjusted now. She added that she just wants to prove to herself she can keep improving in the spring as she did in the fall and winter. The next time we will see Ashley racing against the nation's best will be most likely at the Penn Relays 3000m, where she intends to defend her title.